COMFORTABLY HOME RECEIVES UNITED WAY COMMUNITY BUILDER AWARD
Comfortably Home, a program of Bath Housing, was honored at the Annual Meeting of the United Way of Midcoast Maine on May 15, 2018. United Way Executive Director Barbara Reinertsen announced the award saying, "Bath Housing goes beyond its critical work providing safe and affordable housing, to assessing needs in the broader community and developing successful initiatives such as Comfortably Home. Seeing that most people wanted to stay in their own homes as long as safely possible, Bath Housing developed a program to make minor repairs and basic safety and accessibility improvements at no cost to qualified homeowners."
Since Comfortably Home began in 2015, Bath Housing has made over 100 homes safer places to stay, keeping people in their homes where they want to be. The program works with other community partners, such as Mid Coast – Parkview Hospital. The program has been so successful that it has become a model for other housing authorities across the state, with funding from MaineHousing and the John T. Gorman Foundation.
Debora Keller, Bath Housing's Executive Director, said, "We are so proud of this initiative. We specialize in in one-time, minimally disruptive – but high impact – minor home improvements that facilitate ease-of-living as people grow older. The result is that area residents are thriving in their own homes. Keeping people safely in their homes as long as possible leads to longer, happier and healthier lives for those in our community. We are pleased and thankful that the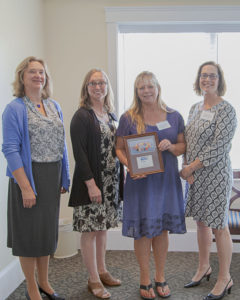 United Way of Midcoast Maine recognized this important program."
Receiving the award for Bath Housing were Bath Housing Development Corporation Board Chair Mary Terry, Jess Irish, Director of Housing, Amy Babb, Director of Administration, and Debora Keller, Executive Director.
To find out more about Comfortably Home visit www.bathhousing.org, or call (207)443-3116.